On Saturday, my mother, several friends/co-workers and I all participated in the Susan G. Komen Foundation "Race-for-the-Cure". The Foundation is dedicated to raising money for breast cancer research and education; this race is one of their big events. This was our fourth year doing the race (in the "noncompetitive walk" category). The race was especially important this year as our little group had been affected by breast cancer more directly than previous years.

I dilly-dallied on this post because I ended up taking a crazy amount of photos at the race. After some consideration, I've decided to split the photos into two posts. The first post will be about the race itself, the second will focus on downtown San Antonio's buildings.

Teaser: My sole architectural picture for this post: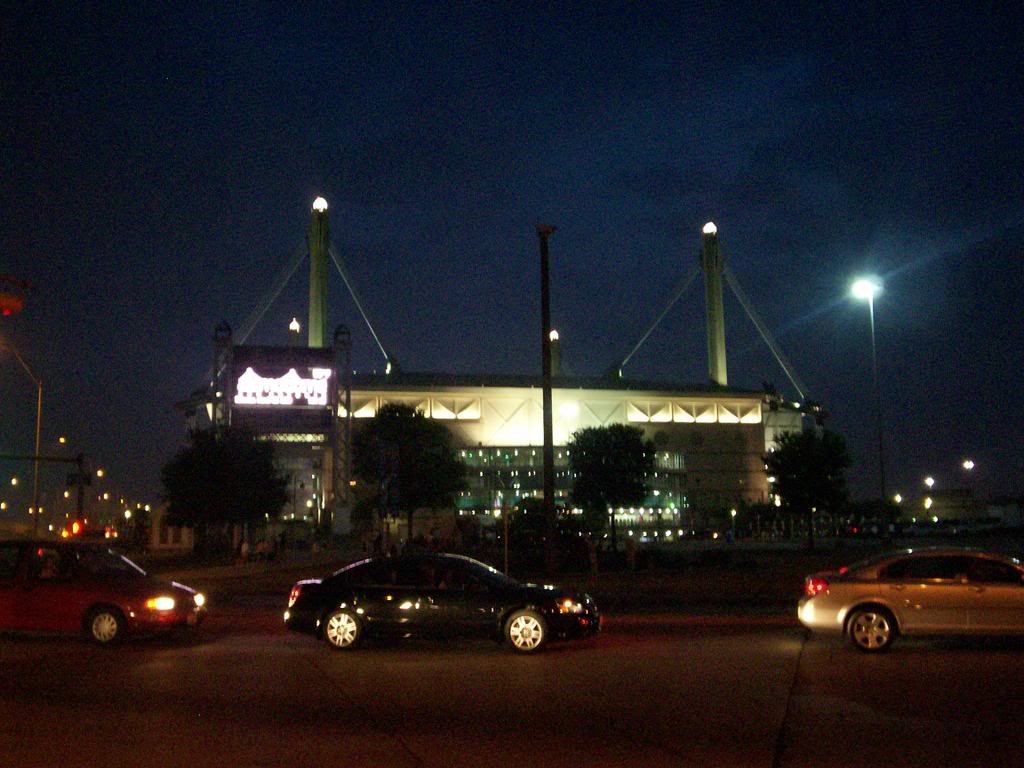 The Alamodome before sunrise on Saturday.

One of the best things about participating in the "Race-for-the-Cure" is the various groups who join in. Our first encounter of the day was with "Kilts for the Cure":


Lovely people who after humoring my request for a picture gave us coupons for the upcoming "Highland Games" held out in Helotes.

After meeting up with our group (can I just say, how did people get together in situations like this before cell phones?), we made our way to the "Survivors Café" for the pre-race activities. While it's good there are so many survivors of this disease, seeing the number of women affected is quite moving: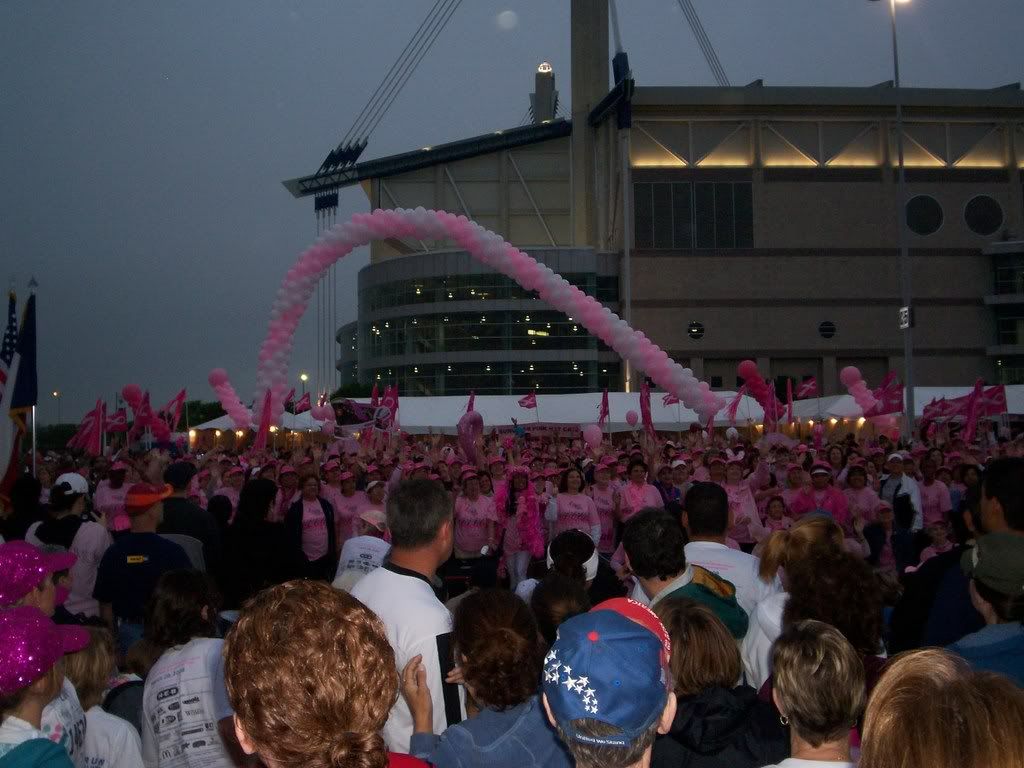 The hardest part about the race is dealing with the huge crowd around the start line.


The best part about the starting line is that local newscasters read off people's signs and teamnames as they pass by the start line. Best teamname of the day: "The Methodist Line-Dancers". Who knew?

Some teams put together really elaborate signs to express their support. One of the best we saw for this race was from an elementary school's team (I think):

It's even more impressive when you realize everyone not carrying a letter was banging away with tambourines.

Many residents of downtown San Antonio were out in their yards and balconies cheering on the race participants, but I have to give special recognition to these two old ladies: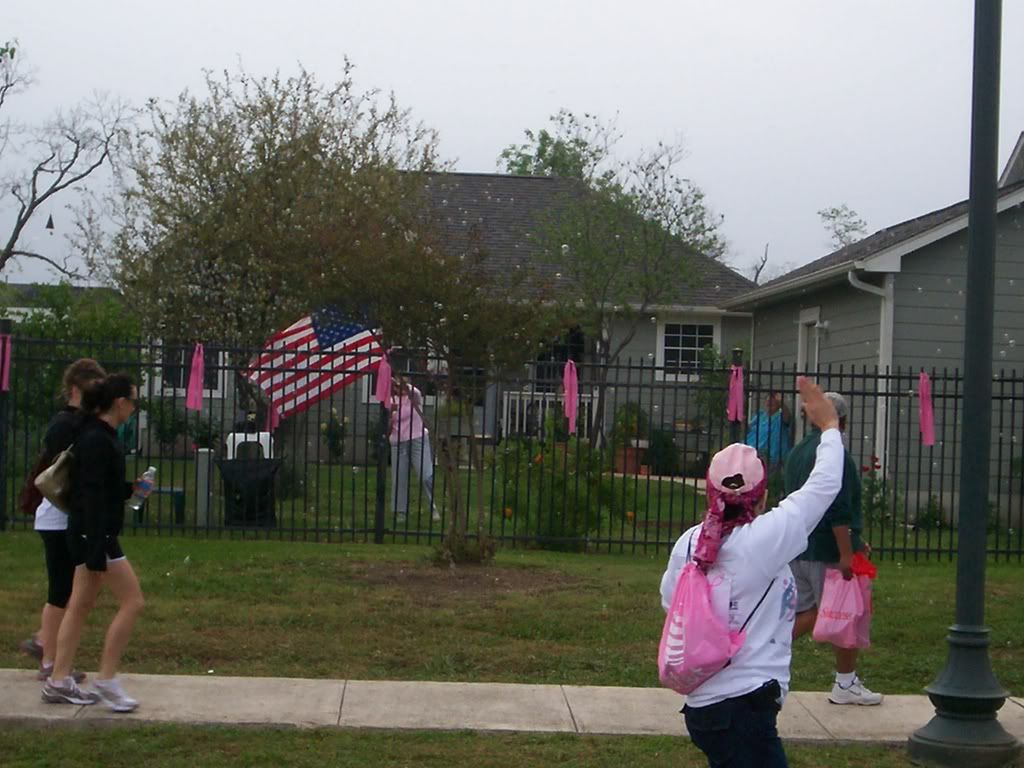 They had flags, ribbons and a bubble machine (!).

In addition to residents, various entertainers are typically set-up along the race route to offer musical accompaniment to the participants. The first is also a long-time favorite:

Brazilian Hula Dance Troupe! These ladies (and occasionally guys) have been there every year of the race and they do a great job of getting everybody revved up.

Thankfully, the race route has few hills but unfortunately, there's a bridge shortly after the start that we cross over. Fortunately, the bridge offers a chance to get great pictures of the crowd. Here's ahead of us from the top of the bridge


Another favorite band has also participated every year we've done the race. They are always on the corner next to the Alamo. I give you San Antonio cultural tradition numero uno: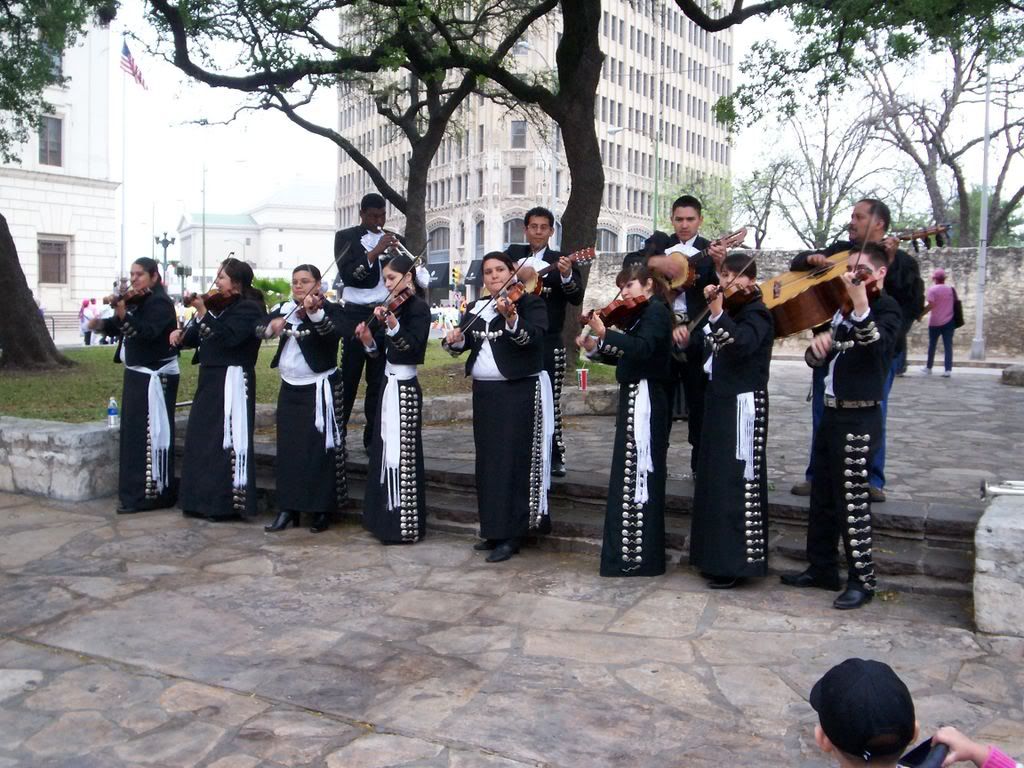 The Mariachi Band! These guys are always good; many people sit in the Alamo park area and listen before continuing on with the walk. It's also hard to get a picture because they are surrounded. This year was my third (and only successful) try to get a decent photo.

Now towards the end of the route, the musicians can be hit-or-miss. Last year, we had this fantastic hip-hop gospel dance troupe *digs around frantically on hard drive for picture* Damn....

So, this year we weren't sure what bands would be out. Firstly, there was a fantastic blues duo (seriously the lead singer/guitarist was awesome!):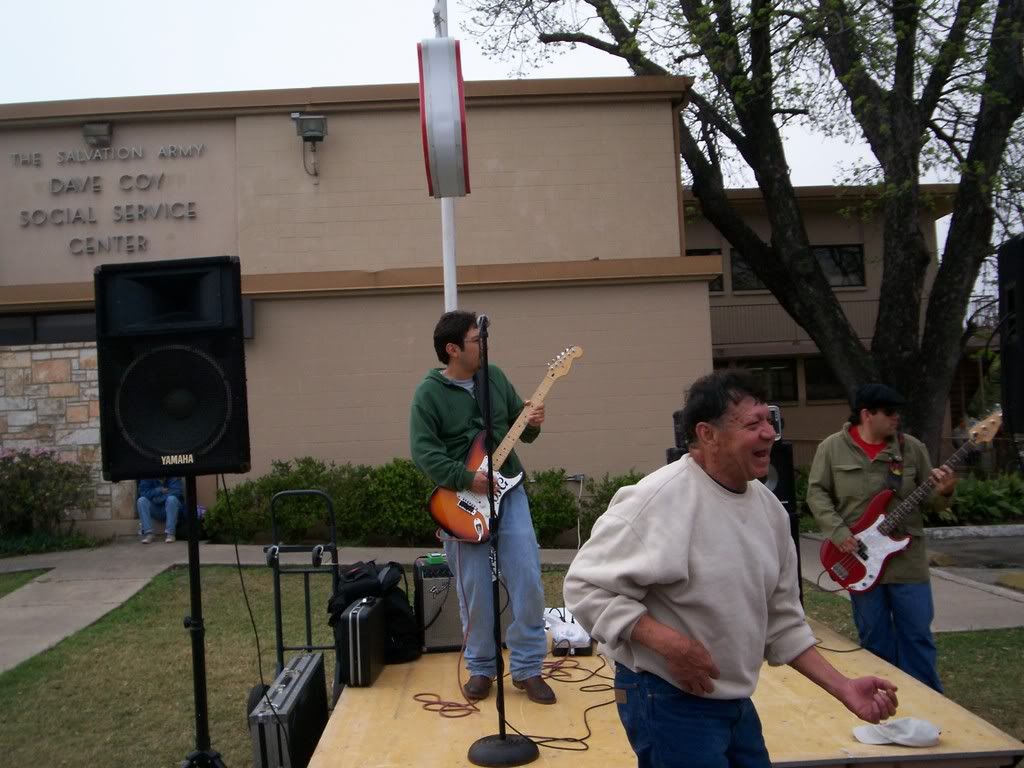 There was also the obligatory "crazy old man" dancing (beige shirt in front). This guy looked like he was having a good time and people had fun watching him. San Antonio may have a "crazy people dancing" syndrome but we rarely have "creepy crazy people dancing".

After four years of participation, I think that there is only one major flaw with the "Race-for-the-Cure…..a lack of bathrooms along the race route. In fact, there are usually only two at a Shell station just past the two-mile mark:

Check out that line. The starting/finish area has tons of porta-potties but the above are the only ones along the race route. Considering the walk takes a while, you better hope the downtown businesses are accommodating.

Next, was an even more pleasantly surprising entertainer. We heard her long before we saw her. From up the street came this "Bette Midler" sized voice singing Aretha Franklin's "Respect". All of our ears perked up because she was really belting it out! We were all prepared to be impressed. But when we rounded the corner, she was this tiny, little girl!! *was even more impressed than expected*: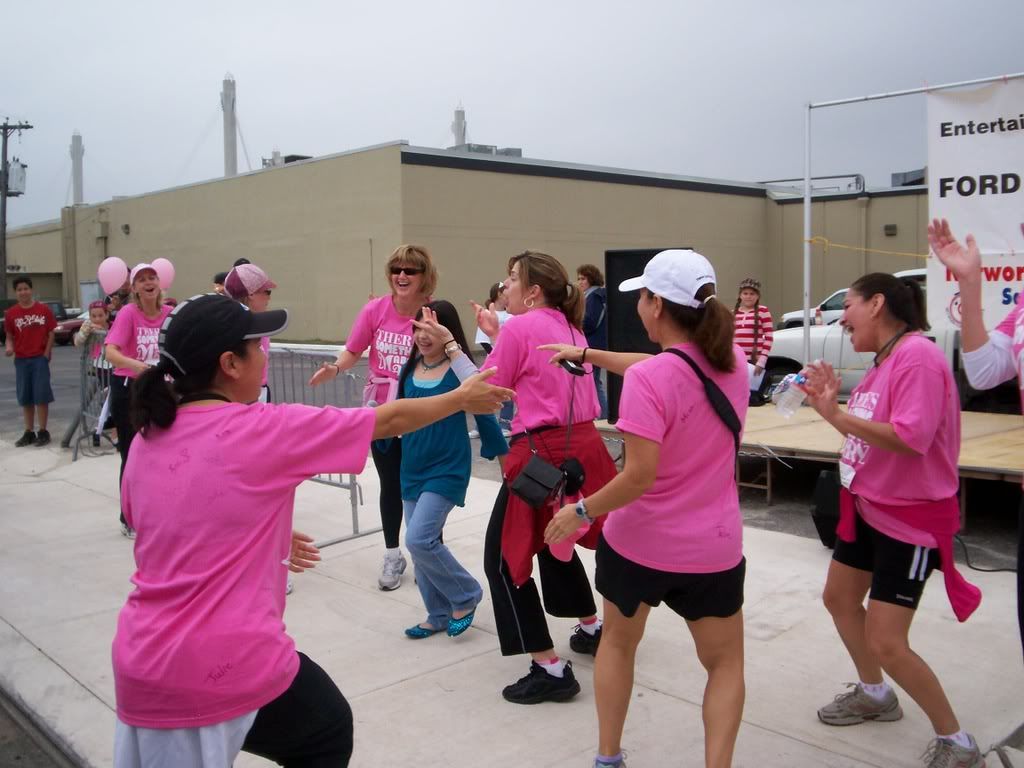 The singer is the girl in the green. Several race participants (pink shirts) decided to jump over and start dancing with her. See what I mean about "crazy people dancing"?! It's like this weird group compulsion.

Unfortunately, this singer was followed by the most unpleasant experience of the race for me. There were protesters...With pictures that were extremely NOT appropriate for a family audience. I get that people could have legitimate issues with how the Susan G. Komen Foundation is run. However, there are more appropriate times and places for a protest. The race is about the survivors and the sick, about their families and friends showing their support, not about politics. I took pictures of these assholes but I've decided not to post them; they don't deserve the free publicity.

Even with a slightly bigger group and some health issues, we managed to finish earlier than last year: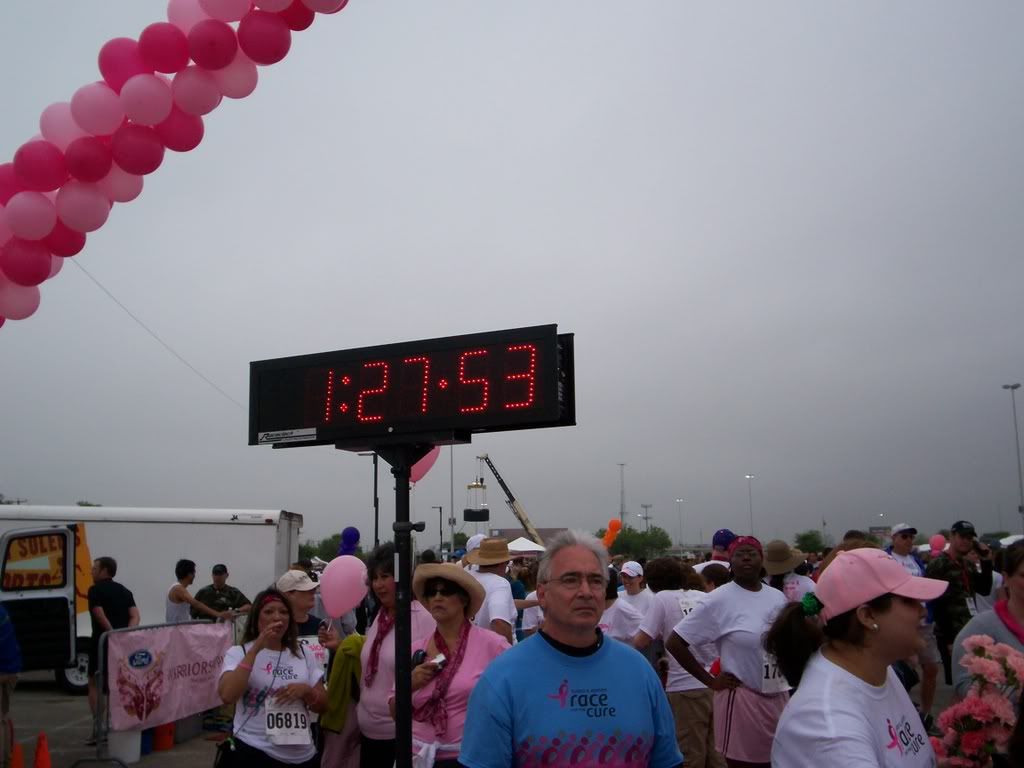 In fact, this may be my best time yet for the 5K race. Perhaps due to my yoga classes?

As we walked back to our parking spot, my mother and I spotted some real honest-to-God celebrities (besides some NBA guy and all those newscasters at the beginning of the race). First, we caught Ronald McDonald attempting to flee the scene: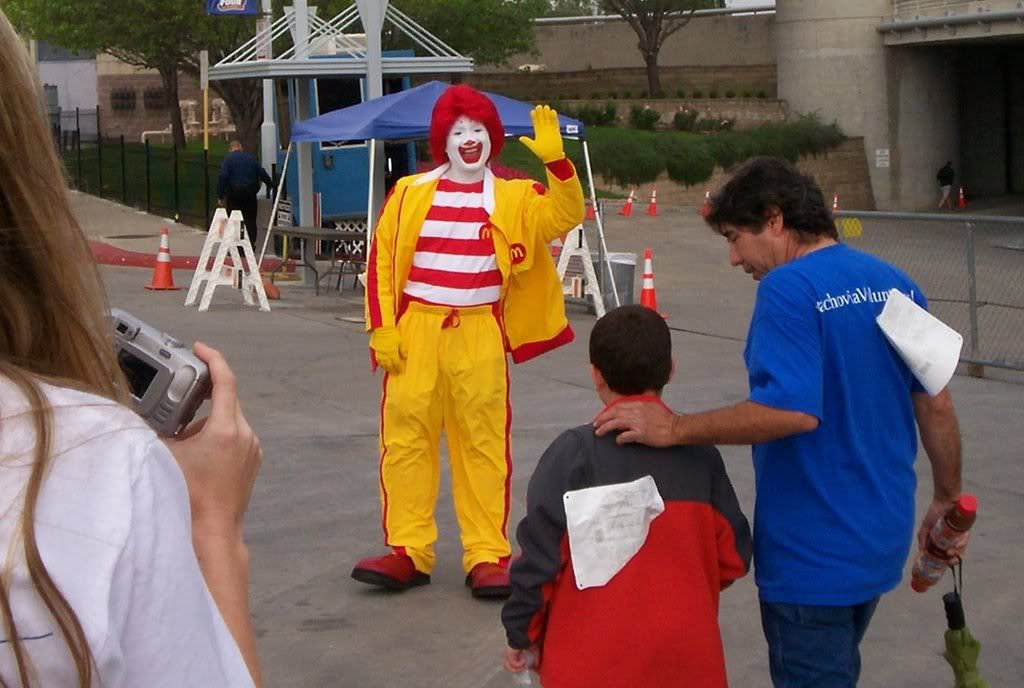 This is as close as I was willing to get due to my latent fear of clowns.

Next, was local star, the H-E-Buddy!

The race was worth it just for this brush with greatness. ;)

All in all, an excellent way to spend a Saturday morning.

Part 2: FOUND HERE – On San Antonio's downtown buildings.